The square steel tube with a round-arched curve seems to contradict the linearity of the lower area of the work. At the same time, an abrupt interruption in the arc creates a sudden discontinuity in the visual path.  The mirror-like arrangement of the structure accentuates or attenuates the disruption of continuity, depending on one's point of view. The white color of the main structure can be matched with a horizontal shaft in any combination of material, finish and color:  steel with a white or black enamel finish, stainless steel, or carbon fiber.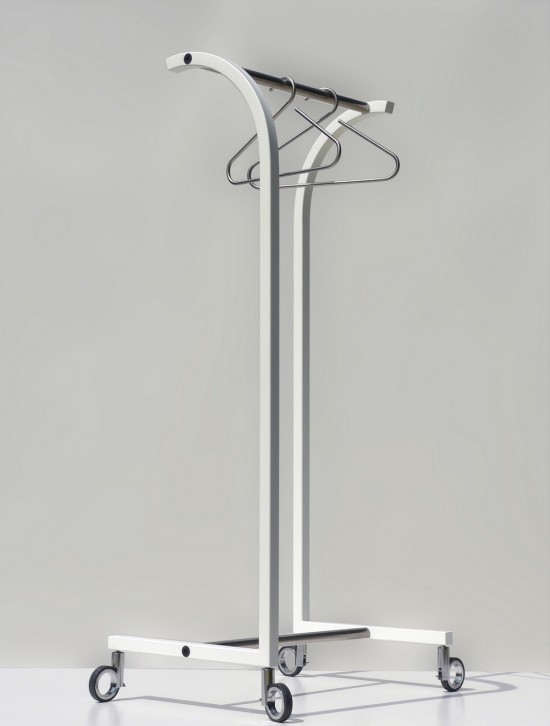 The horizontal shaft is available in various lengths, so the work is appropriate for homes, offices and stores. Insilvis SUNCHARIOT is easy to assemble (with four socket-head screws), easy to liven up (because of its lightness) and easy to move (with its swiveling casters). The item is intended for inclusion in a young, intelligent, useful furnishing arrangement.
Le tube en acier à section carrée, courbé en plein cintre, semble contredire la linéarité de la partie inférieure de l'œuvre. En même temps la brusque interruption de l'arc crée une discontinuité inattendue dans le parcours visuel : l'organisation spéculaire de la structure accentue ou atténue la solution de continuité, selon le point de vue. La couleur blanche de la structure principale s'adapte à toutes les combinaisons de matériaux, finitions et couleurs de la tige horizontale : acier laqué blanc ou noir, acier inoxydable, fibre de carbone. La tige horizontale est disponible en différentes longueurs pour adapter l'œuvre aux habitations, aux bureaux, aux magasins. Le cintre en acier inoxydable. Insilvis OOPS représente le complément parfait du produit fini. L'œuvre est facile à assembler (quatre vis à six pans creux), facile à manipuler (légèreté) et à déplacer (roues pivotantes). Il s'agit d'un objet pour l'ameublement contemporain juvénile, intelligent, utile.