En cette fin de mois de novembre, la célèbre agence Reuters révèle comme chaque année les moments les plus marquants de l'année 2014 dans la catégorie « The Photographers' Story ». Des images fortes en émotions, de l'actualité à de simples faits divers en passant par les instants les plus insolites.
Two women wearing nun outfits drink beer while watching the 2014 Tim Hortons Brier curling championships in Kamloops, British Columbia in this March 8, 2014. Photo and caption by Ben Nelms/Reuters.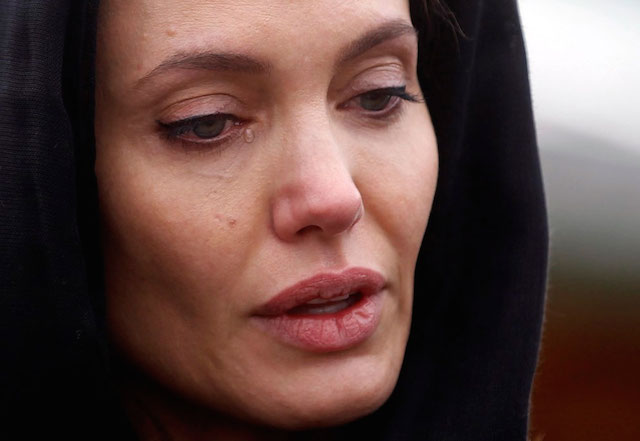 Actress Angelina Jolie cries at the Srebrenica Genocide Memorial in Potocari in this March 28, 2014. Photo and caption by Dado Ruvic/Reuters.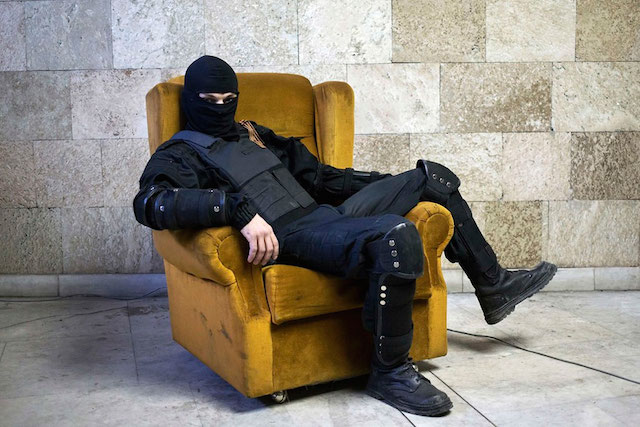 A masked pro-Russian protester sits on a chair as he poses for a picture inside a regional government building in Donetsk, eastern Ukraine in this April 25, 2014. Photo and caption by Marko Djurica/Reuters.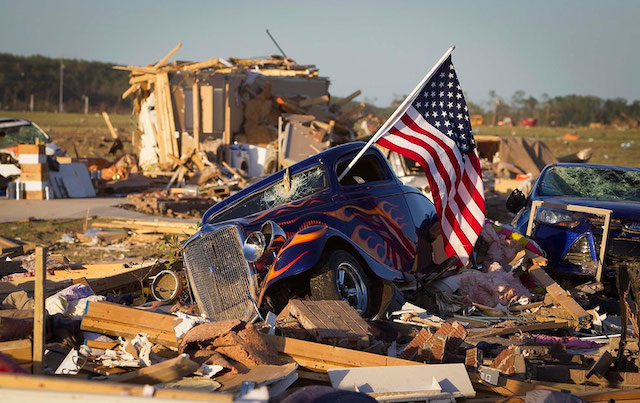 A U.S. flag sticks out the window of a damaged hot rod car in a suburban area after a tornado near Vilonia, Arkansas in this April 28, 2014. Photo and caption by Carlo Allegri/Reuters.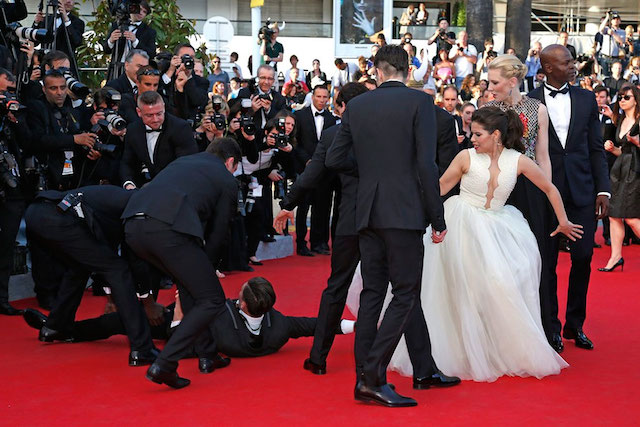 A man is arrested by security as he tries to slip under the dress of actress America Ferrera (3rd R) in Cannes in this May 16, 2014. Photo and caption by Benoit Tessier/Reuters.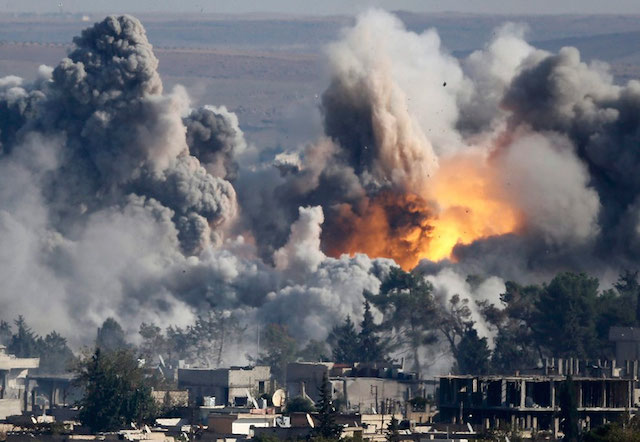 Smoke rises over Syrian town of Kobani after an airstrike, as seen from the Mursitpinar border crossing on the Turkish-Syrian border in the town of Suruc in this file October 18, 2014.
Secret Service agents keep watch as U.S. President Barack Obama visits a Pat Quinn campaign office in Chicago in this October 20, 2014. Photo and caption by Kevin Lamarque/Reuters.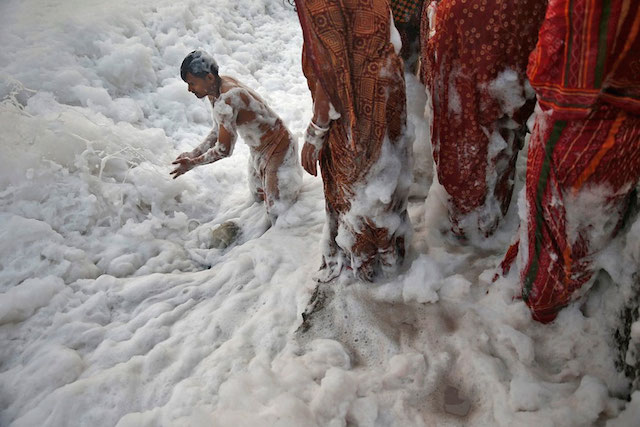 A Hindu devotee worships in the polluted waters of the river Yamuna during the Hindu religious festival of Chatt Puja in New Delhi in this October 30. Photo and caption by Ahmad Masood/Reuters.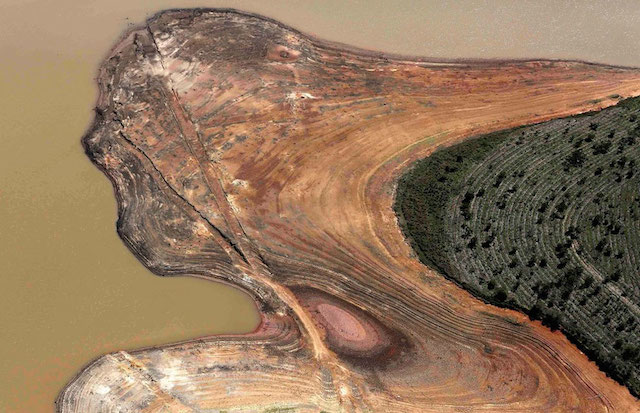 An aerial view of the Atibainha dam, part of the Cantareira reservoir, during a drought in Nazare Paulista, Sao Paulo state in this November 18 2014. Photo and caption by Nacho Doce/Reuters.
Uttara Saud, 14, sits inside a Chaupadi shed in the hills of Legudsen village in Achham District in western Nepal in this February 16, 2014. Photo and caption by Navesh Chitrakar/Reuters.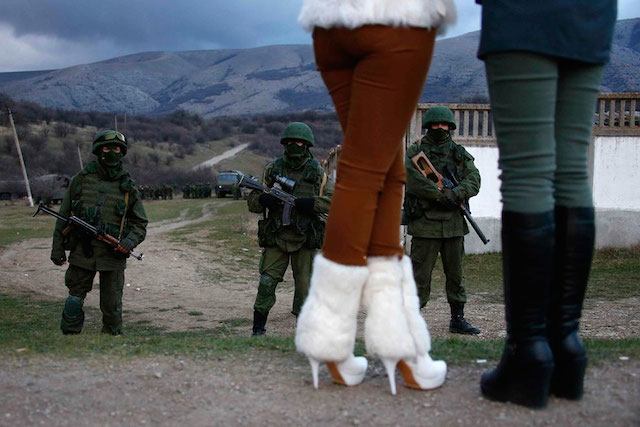 Local women watch armed men, believed to be Russian soldiers, assemble near a Ukrainian military base in Perevalnoe in this March 5, 2014. Photo and caption by Thomas Peter/Reuters.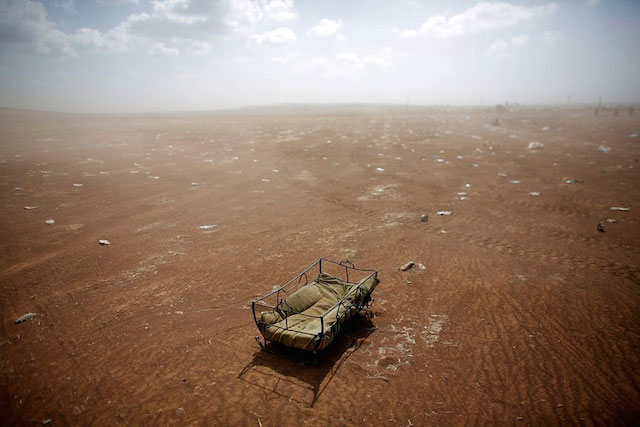 A cradle left behind by Syrian Kurdish refugees lies at the Turkish-Syrian border near Suruc, in this September 27, 2014. Photo and caption by Murad Sezer/Reuters.
A girl from the minority Yazidi sect rests after fleeing violence in Sinjar, in this August 13, 2014. Photo and caption by Youssef Boudlal/Reuters.
A radio-controlled flying witch makes a test flight past a moon setting into clouds along the pacific ocean in Carlsbad, California in this October 8, 2014. Photo and caption by Mike Blake/Reuters.
The U.S. side of the Niagara Falls is pictured in Ontario, in this January 8, 2014. Photo and caption by Aaron Harris/Reuters.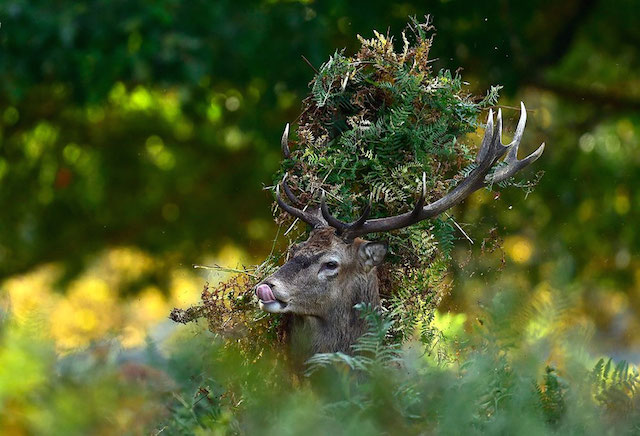 A male red deer with antlers covered in bracken, walks through undergrowth in Richmond Park in south west London, in this October 3, 2014. Photo and caption by Toby Melville/Reuters.