Chaque année, l'American Institute of Architects récompense les meilleurs projets réalisés par des architectes admissibles aux Etats-Unis, leurs réalisations pouvant se trouver à travers le monde entier. Le prix célèbre la meilleure création architecturale contemporaine indépendamment de son budget, sa taille ou encore, son style. Les 23 différents édifices sélectionnés pour cette année sont à découvrir dans la suite.
Le Aspen Art Museum dans le Colorado par Shigeru Ban Architects & CCY Architects.
La rénovation de la Rainbow Room du Rockefeller Plaza à New-York par Gabellini Sheppard Associates & Montroy Andersen DeMarco.
Le Writers Theatre à Chicago par le Studio Gang.
Le General Motors Design Auditorium de Detroit originellement signé par Eero Saarinen et rénové par SmithGroupJJR.
Milken Institute School of Public Health à Washington pensé par les studios Payette & Ayers Saint Gross.
L'originale Grace Farm dans le Connecticut par SANAA & Handel Architects.
Le restaurant In Situ du San Francisco Museum of Modern Art par Aidlin Darling Design.
Reva and David Logan Center for the Arts situé à Chicago et pensé par les studios Tod Williams Billie Tsien Architects et Holabird & Root.
Le Carmel Place, premier immeuble à accueillir des micro-habitations à New-York pensé par le studio nArchitects.
Le projet de rénovation du Carnegie Hall Studio de New-York par Iu + Bibliowicz Architects LLP.
La nouvelle centrale d'énergie de l'université de Stanford en Californie par ZGF Architects.
Les plans d'urbanisme pour la 30th Street Station de Philadelphie par le studio Skidmore, Owings & Merrill.
Les nouveaux locaux de Pinterest à San Francisco par IwamotoScott Architecture & Brereton Architects.
Le projet de Sasaki Associates pour le  Tecnológico de Monterrey Campus au Mexique.
Un centre culturel et résidence d'artistes située au Sénégal par Toshiko Mori Architect.
Le St Ann's Warehouse theater à Brooklyn par Marvel Architects.
Le Cleveland Civic Core par LMN Architects.
La Claire T Carney Library de l'Université du Massachusetts pensée par DesignLAB & le studio Austin Architects.
La Rock Chapel Marine; Chelsea située dans le Massachusetts et pensée par le studio Landing.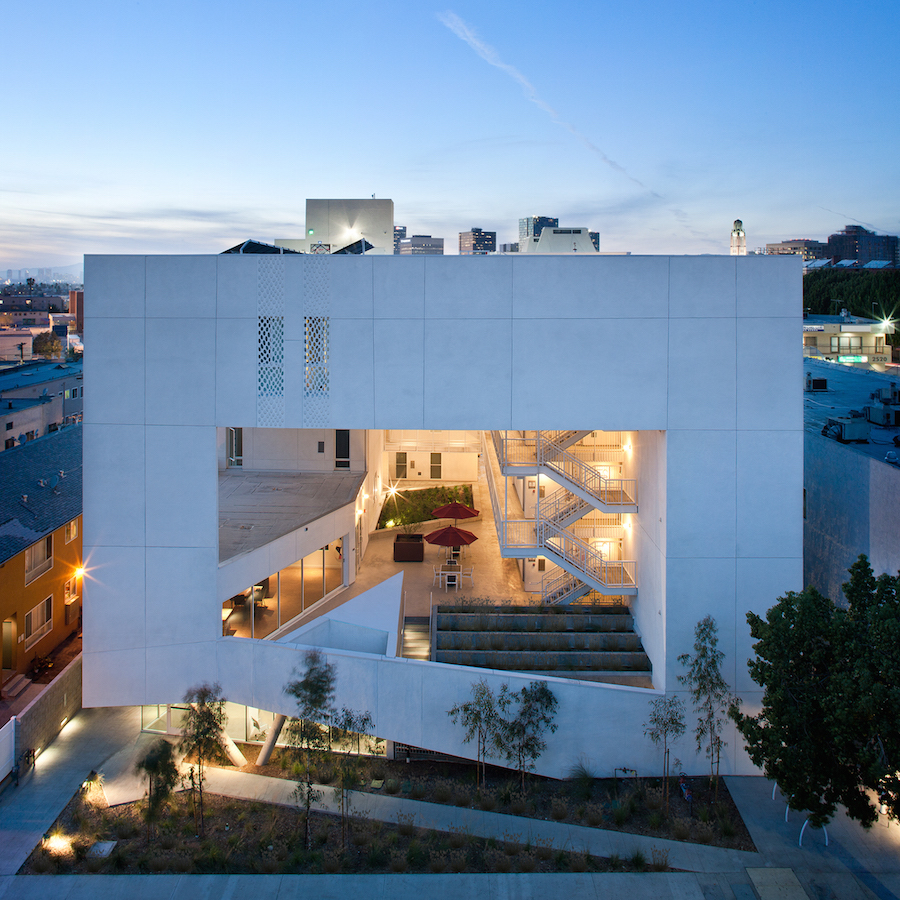 The Six Affordable Veteran Housing de Los Angeles par Brooks + Scarpa.
Les plans de reconstruction de la ville Vilonia située dans l'état de l'Arkansas par UA Community Design Center.
Situé dans le Connecticut, le nouveau centre de conservation de l'université de Yale dédié à l'art britannique par Knight Architecture.
The Cotton Gin at the CO-OP District, un espace publique multi-usages situé dans la ville d'Hutto au Texas et pensé par Antenora Architects.